Dharmasthala
 was hot. Sweltering hot actually, which didn't make sense because it was December. Walking around barefoot didn't help either.
We headed straight to the temple and stood in the queue for 
'darshana'
. And thus began the most traumatic 2 hours of my life. The queue moved slower than traffic on Bannerghatta Road, but we were lucky to be surrounded by some very civilized, cultured people who kept us entertained throughout.  These people were also obviously high on personal hygiene. And their kids were a charm. Honest. Highlight of my trip: When one of those kids vomited in the middle of the queue.
The line moved through narrow metal-grilled chambers which made me feel like I was in prison waiting for my hindalium plate of food. After about 2 hours, we reached a point in the queue where there was a security guard who was letting in people in batches of  about 100. "At last", I thought "Here I come
 Manjunathaaa!
". But to my horror, I realized that this was not an entrance to the temple, but to another long crowded prison-chamber which led into another chamber.
And that's when I lost it. I asked the security guard to open the gate and stormed out of the queue after giving my wife a 'don't even think about it' look. (She gave me a "Its Okay, we'll talk later" look which was heartening). I refreshed myself with a couple of cold lemonades, went back to the van and cooled my heels waiting for everyone to come back.
After about an hour or so, I got a phone call, from my wife, and I was ordered back to the temple to join them for the free lunch.
Lunch at Dharmasthala temple is a once-in-a-lifetime experience. 

The whole thing gets over in less than 6 minutes. Whether you like it or not, whether you finish eating or not. Taste was okay, but it isn't a lot of fun when your trousers eat more than you do.
Moving on, we started towards 'Kaarkada', a small town near Udupi where we had planned to spend the night at a relative's place. Watched 'Mungaaru Male' on the way, which held up surprisingly well on second viewing. (I'd watched it at PVR last year, the only Kannada movie I have watched at a theater in the last 2 years. Just thought you'd like to know.) I realized that I can actually watch those songs any number of times without getting bored. 
After a great dinner, I slept really well that night.
Next morning, we took an early morning walk around the open fields and the countryside. It was charming and gave me some really nice photo-ops.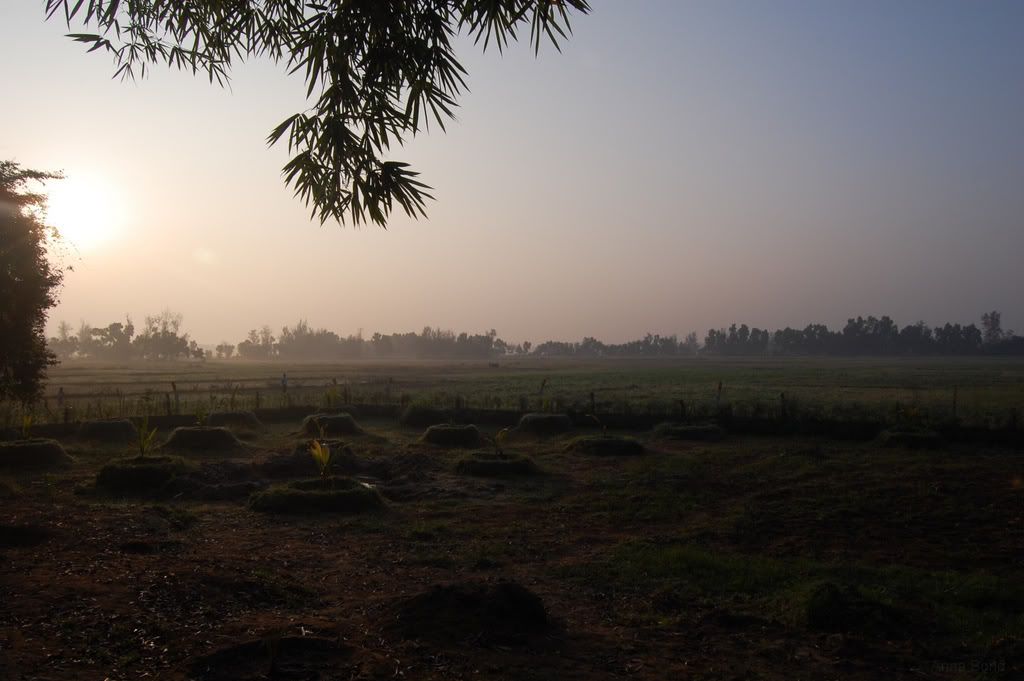 After breakfast, which included homemade 'Tatte Idly' and Kesari Bhath, we headed out to see the temples at Saligrama and Anegudde. These 2 were by far the best & most peaceful of the lot. I actually enjoyed those visits.
(Saligrama Temple Premises)
On the way back from Anegudde, we stopped at a road side shop who is famous for making superb 'Mandakki Churmuri'. It is similar to 'Churmuri', but is made from a different type of rice flake. And they use Coconut Oil. All the ingredients come together like heaven and this is what you get.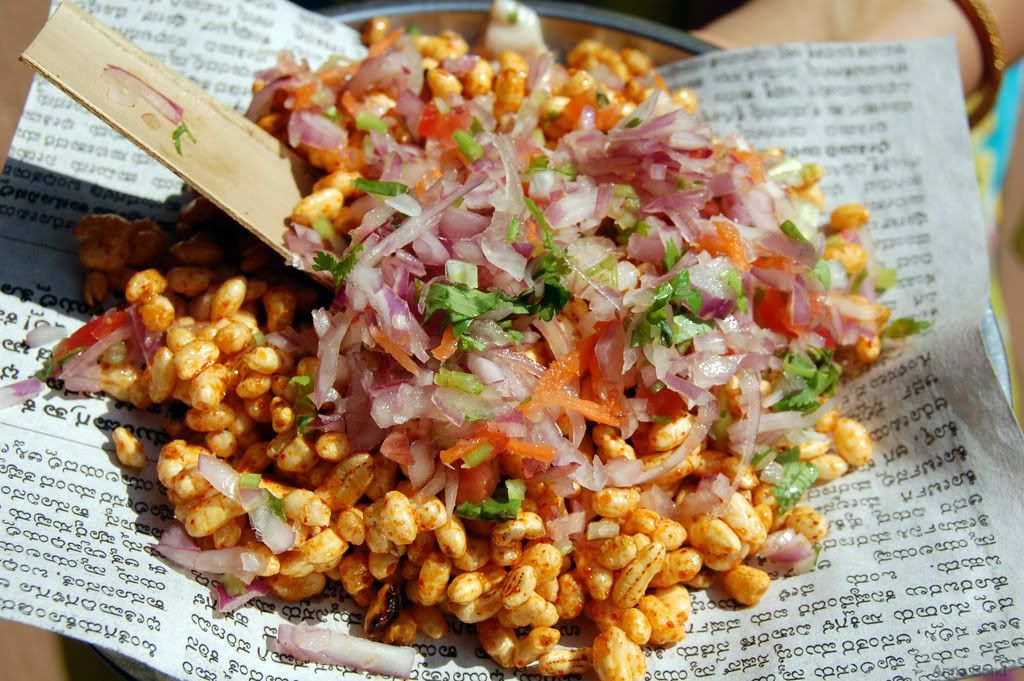 Believe me, it tastes better than it looks!
So, after spending an astonishing 500 Rupees at that shop, we boarded the van for the jouney back home. We decided to take the Shimoga route thinking that it would be better for our stomachs, backs, etc. Bad Idea. It added an extra 2 hours to the journey.
The silver lining though was that we got to pass through 'Agumbe Ghats' which offered some fabulous views like this:
We stopped at Shimoga for Lunch (although eating at 5 PM is not necessarily called 'Lunch'). We went into a restaurant near the bus stand and waited for what seemed like an eternity before a waiter decided to stop by and place glasses of water in front of us. He disappeared quickly and we did not see him again. Losing patience, we asked the guy at the counter where the hell were all the waiters. He said "
Neeru togond barakke hogavre
" (Waiters have gone to fetch water).
With brains not working full time because of hunger, we obviously did not understand his response. We did not care either.
We told him that we've been waiting from over 20 mins and we need some service urgently.
For that, he pointed us to a notice signboard near his counter which read (and I kid you not):
"Urgent Service Not Provided". 
(I tried to take a photograph of that signboard, but the guy hid it away!)
In the meantime, my wife, who had gone to see if the bathrooms were usable, came back running, looking like she had just seen Himesh Reshammiya without his wig.

Taking cue, we quickly exited the restaurant and got onto the bus, food be damned. After a couple of hours, we stopped at Tarikere and ate Masale Doses which tasted surprisingly good.
The rest of the journey was spent watching 'Rock On', another movie which I did not get bored watching the second time. I think it has one of the most uplifting and well-crafted climaxes in recent memory.
So there I was, at the end of the trip, uplifted and jovial. I was thinking about the amount of brownie points I had scored by going on this trip and calculating if that would be enough to last another 2 years, when my wife asked me "
Great trip alwa? We should do this again sometime, right?
"
I nodded with a smile. But there was a part of me that was genuinely nodding & smiling.
I guess Indians
are indeed
strange.