India is a unique country. Strange, but unique.
One one hand, young boys, as soon as they graduate to the exciting world of high-school, are made to sit so far away from girls in the classroom, you can't even make out if they've started wearing their elder sisters' perfumes yet. As much as a sideward glance towards those desks attract a
'yaako poli?'
from lady teachers.
And on the other hand, at some of the the holiest of holy places, men are ordered to get half naked and encouraged to pile up in a queue with women where anything goes as long as you are chanting the holy lord's name.

Yes, I finally took the customary family trip to the famous temples in Karnataka and the thought above occurred to me when I was standing in a queue at 'Dharmasthala' wondering if the banian-clad gentleman behind me will ever ask his super-hygenic kids to stop bumping into my posterior every time the queue slowed down.
I'd avoided this trip for 2 solid years, but this time my wife pulled out all the stops ranging from threats of physical violence to the ever-reliable
senti
looks. And she used the 'brahmastra' in the end - '
If we go to the US again, we won't be able to do this for a long time
' - for which I had no response. (See how I casually slipped in the fact that I'm going to the US again. Subtlety at its best I say)
My wife, for all her 21st-century-woman-of-style-and-substance image, is a pukka conservative brahmin girl at heart. So when I broke my arm into 2 pieces in February, she had promptly prayed to god and promised a visit from both of us to 'Anegudde Ganesha' in case I healed up well. (Known as
'harake'
in Kannada)
Healed up I did, albeit with the help of a titanium rod to hold the bones together. So now I'm obligated to go wherever she decides to take me. In full enthu, she chalked up a plan with her parents, siblings and cousins which would make maximum use of our time. In short, it meant at least 5 temples in 5 different cities in little over 2 days. 
You see, I am a brahmin guy in my 20s living in Bangalore, occasionally touring abroad. Which means:
a) I wear my '
janwaara
' for strictly show & tell, i.e. showing elders when they ask me where it is and telling new acquaintances who I know are brahmins that I'm also one & not a shabby-joe even though I may appear like one.
b) My frequency of doing '
sandhyavandane
' is at most once a year. (Mostly on '
Upakarma
' day). And the frequency of doing '
parishanchane
' before lunch depends on the number of weddings I attend where I'm seated next to/opposite of elderly people.
c) The only times I visit the Pooja Room in my house on non-festival days are when my wife or my mother ask my opinion on some new rangoli/light decoration they've tried.
d) I'm the one who controls the remote for the Music System during 'Ganesh Chaturti' pooja. (controls = fast forwards).
So, you can imagine my excitement as the day of the trip finally arrived. We had 12 people, including 2 kids packed in a minivan which seated exactly 12. Luggage was dumped behind and all around the last row. I was seated at, you guessed it, the last row. 
Once inside the van, we realised that it had a working TV & DVD player. Ahh.. Hope. 
We got 3 new hindi DVDs (A Wednesday, Dasvidaniya and Oye Lucky, Lucky Oye!) for company and started off towards the western ghats to our first destination:
Kukke Subramanya
.
Within the first 5 hours, we had finished off A Wednesday (which was really good) and Dasvidaniya (which was decent but a little too drawn out). 
And after a quick dinner break (read chitranna & mosranna made by MIL, which was superb by the way), all the great minds in the van decided to start the third movie as well. I know, we are all about the future. No one actually watched Oye Lucky! fully, but everyone kept saying 'bad movie'. I myself dozed out a few times and couldn't watch it fully. 
We finally reached the place by midnight and entered a lodge where we'd booked rooms. We were greeted by this: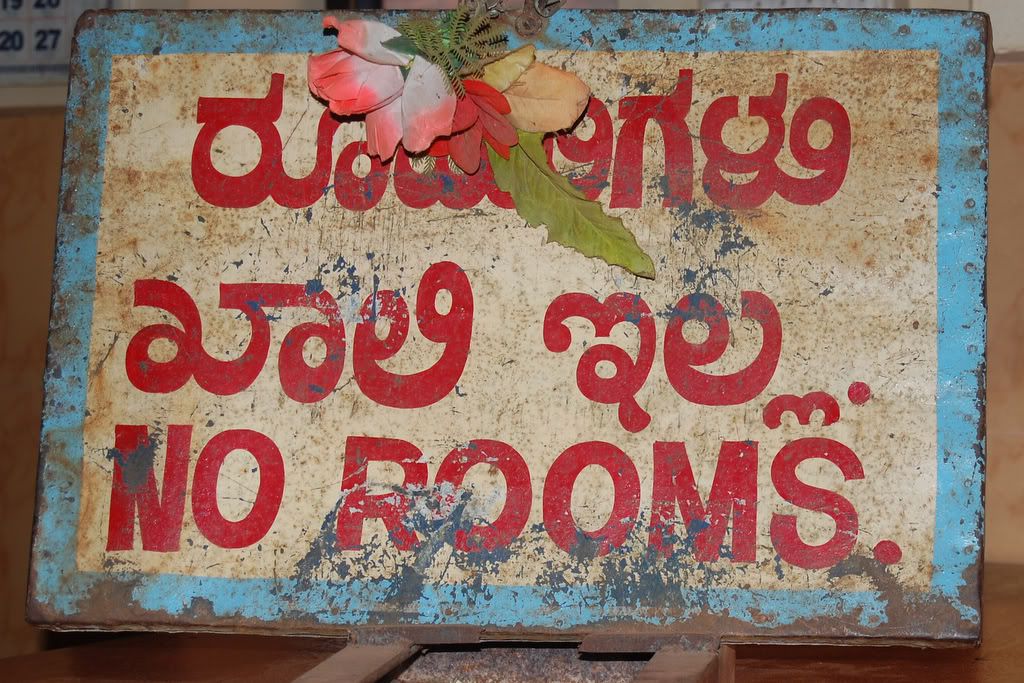 "
Before 10 barbeku saar
", said the guy at the counter. After much haggling, he showed mercy and granted us two rooms on separate floors. "
All men in one room and women in the other
" announced my MIL. We followed. By 1 AM we had settled in our rooms.
I couldn't sleep at all. Must've been all those Hindi movies I watched at a stretch.
So I did the logical thing and ended up watching 'Main Hoon Na' on TV till about 2:30 in the morning. 
Next morning, I woke up last and delayed everyone else which was highly appreciated by my wife. My requests for 'tiffin' were duly ignored and we headed to the temple.
(On the top left corner, you can catch a glimpse of Kumara Parvata, one of the tallest peaks in the region and a popular trekking attraction)
The temple was nice, but the devotees, not so much. It was not like there were 500 people crammed inside, but the 50 that were there created enough chaos for me to almost say 'screw it' and leave. But I stayed and went through the motions. Inside the temple, all men are required to remove their shirts and vests. So you get to see some memorable sights. 
We were standing in a queue about to enter the main temple and suddenly the line which was moving at a leisurely pace started to look like an impromptu Sourav Ganguly press conference. For no apparent reason, people started pushing and shoving one another. I guess the lord is a little biased towards people who lean over the person in front of them to take a peek at him before entering the temple. Most of my time in this temple was spent covering my wife with my arms and my body the same way one protects his girlfriend on new year's night at Brigade Road.
After an hour of struggle around the different sections of the temple, we were finally out.
A quick breakfast and we were off to Dharmasthala, our second destination, but not before we picked up 2 more DVDs - Mungaaru Male and Rock On! for further entertainment purposes.
I clicked this on the way:
Not bad, eh. 
More to come in the next part, including an episode I'd like to call "My escape from Dharmasthala".
(to be continued...)