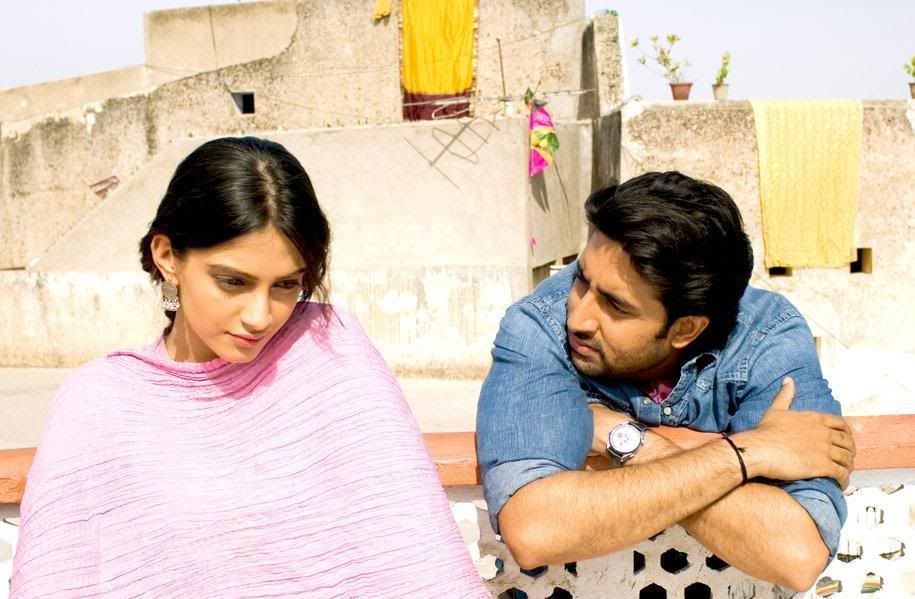 Ever since Himesh started singing full time, I started dreading a new album release. In a way I am actually delighted he's started acting. I can live with a 'Mashaaa allaaaaaaaaaaaaaaaaaaaan' once in 8 months.

The good thing is that for all those Himesh, Anu Malik and other mere mortals, we have one Rahman.
I do not usually write full posts about music albums. Not for bollywood film music at least. 
But in the last few days, I have gotten so absorbed by this gem of an album, by one gem of a musician, that I had to write about it.
I have been listening to 'Delhi 6' since last weekend and I've got to say this is some of the best music I've heard in years. It is interesting how lyricists seem to up their game for a Rahman album. Prasoon Joshi is emerging as a class act of late, and here he creates some amazingly meaningful yet non-cliched poetry.
And there's Rahman. He weaves magic around those words, transcending genres effortlessly in the process. I dare you to show me another contemporary album with such variety, and quality.
I'm actually compelled to put a listing. So here goes:

Masakali:
Oh, the song you'll fall in love with. Fresh, Unusual and Earthy. Mohit Chauhan sings it with flair and energy. The lyrics compare Sonam Kapoor to a carefree pigeon. You can't help being smitten by it.
Arziyan
: While I'm not the right guy to analyze the subtleties of a genre like this, I can still recognize a good composition. The words are honest and so are the singers.
Dilli 6
: The title track is one giddy mix of guitar, funk, rap and attitude. The rhythm is so infectious, you can't help but keep tapping your foot, which is okay unless you're foot is on the brake of your car, which may result in you get honked for braking pointlessly. (This was totally hypothetical, by the way.)
Rehna Tu
: Beautiful Beautiful song. Its funny how Rahman ends up singing the best songs in all his albums. The beat is just perfect, lyrics eternally romantic, reminding you of your loved one every time you play it. My guess is this song is played as background to some intimate scenes between the lead pair, which could be an interesting watch. I can easily see this one being a hot favorite at Valentine's day dedications.
Dil Gira Dafatan
: Best song of the album for me. It has got this mysterious otherworldy feel to it. Every time I play it, I feel transported to another universe where everything moves in slow motion. At the heart of it, I think it is a song about one way love. There's something hauntingly poetic about one way love; a sensation that every guy or girl has felt at least once in a lifetime. The words are just dreamy. And the vocals. God, I wonder where Rahman finds all this talent. Have you heard of Ash King and Tanmayee? Well, hear them here and you'll wonder where they were all these days. I just love this song when I'm on the road. I stop caring for traffic or anything else for that matter. Did I mention that there's not a single beat of percussion in the entire track?
Genda Phool
: Most interesting track. A simple folksy tune about marriage is raised to far higher levels of interestingness by adding some groovy percussion in the mix. You can't teach this stuff in music schools. It is just magic.
Bhor Bhaye
: An out and out classical number. I keep telling myself that I haven't attained the levels of maturity required to enjoy Indian classical music. But I loved this one. It is intense, sometimes bordering on fusion, but you can just close your eyes and enjoy it.
Aarti
: Customary spiritual ditty. Its become a standard for Rahman albums. I didn't mind it.
At the end of it, you realize Rahman is just so far ahead of anybody else in India (maybe even in the world with all the oscar noms) that it is almost laughable.
Is it not?
Okay, close your eyes and  just picture Himesh in his new Karzzz wig singing (
and dancing
) 'Harri Yomm Harri Yomm Harri Yooouuuuuum' for 30 seconds.
See, that did the trick.