Wednesday, June 03, 2009
(I'm back friends! And to compensate for the long hiatus, I present to you one gigantic post)
(P.S: It has pictures)
One of my lifelong dreams came true last weekend at San Antonio
Seaworld
.
Yes, you guessed it right.
I finally got to see at least 2000
mexican
women (generously endowed at all the wrong places) in full make-up, each with 3 oh-
cho
-cute kids (and one/or more on the way for many, apparently), walking around in spaghetti tops and shorts.
Yep.
You know, the pleasant sound of "
Pedroooo
" every now and then really adds a new dimension to the whole
seaworld
experience. You all should do it once.
Anyway, before you start daydreaming about that, let me briefly recap what turned out to be a really fun Texas Road Trip.
We were supposed to start on
friday
before 5 PM, so that we could be in Austin by dinner time.
At 5 PM though, my wife was still on the phone with her lovely co-workers who wanted some
powerpoint
slides to be sent that very evening.
Thrilled at the fact that I'm not the one causing the delay (for once), I decided to laze on the couch wisecracking stuff like "why don't you send blank slides. I'm sure they'll appreciate a joke once in a while".
The glare from the other end though gave me enough hints about the possible repercussions (read: physical injuries) and so I quietly moved away pretending to pack the suitcase instead.
We finally left home at 6 (my wife is an amazingly quick packer!), picked up her cousins (K and S) on the way and were on our way by 6:45.
You see, on most days I'm a left lane guy, i.e. at least 10 above the speed limit-and constantly-in-your-
rearview
mirror-if-you're-not-moving-over-to-the-next-lane kind of friendly fellow.
So you can imagine what a thrill it must have been to drive at 25mph for hour-long stretches on a choke-full highway. We were wondering why the hell is everyone going to Austin for memorial day, but realized much later that it was graduation weekend at UT. On the brighter side of things, my fellow passengers were shocked at my
sanskrit
vocabulary range on the road and suggested a visit to the psychiatrist.
You see, on most days, I'm a classic rock kinda guy. Mix it up with
Rahman
and
Kishore
Kumar
every now and then, and I'm a happy camper. My wife likes Indian Classical/Fusion. Her cousins love Indian Classical/Fusion. The only music common to all is
Rahman
(sort of).
Let me illustrate the scenario here:
As you can clearly see, I was in the minority and this was taken full advantage of by my fellow passengers. After 90 minutes of
bollywood
hits, the first classical CD was popped in and there was no looking back after this. (Hey, I'm capable of enjoying classical too, but long drive, night, slow traffic.. you know, my eyes tend to close quicker than usual). On second thought, it was probably a good idea not to play rock. I'm sure the
Freebird

solo
would've compelled me to jump on to the shoulder and floor the gas pedal. I made the mistake of mentioning this to the group and was promptly recommended the aforementioned psychiatrist again.
After 4 hours and 15 minutes (and one close fender-bender call), we finally reached Austin. The
kodbeles
and
papadis
consumed during the journey were long gone, so we settled inside
Kerbey
Lane Cafe for dinner. Once at the table, I look up to the TV screen and see headline '
Lebron's
incredible buzzer beater' flashing on it. Turns out No. 23 had hit an
unbelievable last second shot
to win the game against Orlando. (I missed it because of one stupid red corolla ahead of me on the
left
lane of the road which refused to go beyond 55 on a 60 speed limit). They showed
at least
15 replays of the shot in the next 10
mins
, but I'm sure watching it real-time would've been something else.
We then followed the regular non-
indian
restaurant protocol, which is:
a) Order the veggie option.
b) Tell the waiter "No Meat".
c) Ask the waiter if this contains any meat or meat derivatives at all. (At which point, he goes back to the kitchen to check with the chef, comes back and says that one sauce is actually made of chicken broth.)
d) Tell the waiter to prepare this dish with no meat-derived sauces/ingredients.
e) Prepare to tip an extra 5 bucks.
(Actually, the last point isn't always true. But I have to show some class here at least.)
By the time we ate, drove to the hotel and checked in, it was well past midnight.
Great.
The original plan was to hit Austin downtown (6
th
street specifically) by 11, so that we could do some proverbial 'pub-hopping'. (Yes, pub-hopping with a crowd that consists of 2 alleged teetotallers and 2 (including myself) amateur drinkers). Determined not to miss out on Austin's famed nightlife, we freshened up quickly and left for Downtown.
Now let me take a step back and bring up the one question which has been burning inside all of us ever since we started working in the US.
Where are all the young people in America dammit?? (more specifically, where are all the young women?)
[

Oh come on, admit it. Its been bugging you too. After seeing endless number of

auntys

, uncles and

ajjis

everyday at work, you're just as desperate to see some wrinkle-free (or

botox

-less) skin.

]
I finally found the answer. They're all in Austin!
The moment we entered 6
th
Street, my mind just went numb. I had not seen this much skin since, er.. since birth. There were at least 1000-1500 people in one street and you had to struggle to find a face which looked older than 25. For the first time, I felt old in America.
Every outfit imaginable to man was there, including latex pants(!). We saw a cat-fight, something that resembled a hip-bumping dance, and 2 guys so drunk that they were rolling on the street pretending to dance. Heck, we even saw a prostitute openly negotiate terms of service with a boy who did not look 18 to us.
I'm not exaggerating when I say that it was one wet t-shirt contest away from going absolutely bonkers out there. Our spouses tried to distract us from all the "
kannige
tampu's
" (eye candy) for the first 2 minutes, but gave up wisely since it was a pointless exercise and focused their attention on the shirtless/6-packed boys instead.
The whole street was lined up with pubs. We picked one named 'Blind Pig' and entered. ID Check was a formality as the guy accepted my Indian
DL
(the book, with handwritten name) as proof.
We ordered a couple of drinks, which took about 20 minutes, and headed to the roof where the music was bellowing from. It was primarily yuppie music - mostly hip-hop and an occasional pop ditty. But it went well with the ambiance and we had a great time (Apparently not as great as the time the cross-cultured couple next to us were having, who spent the whole time in just one canine-inspired position).
By 2:30, they closed shop and we were forced out. Not ready to turn in just yet, we decided to go to a bowling alley which was supposed to be open till 4. But as we approached it, we saw that it was closed. Disappointed, we returned to the car and started back to the hotel.
We hadn't moved more than 100 meters when I noticed that a police car had just taken a U turn and was now behind us. (BTW, there were way too many cops in Austin. I think this was their collection season). In a split second, I realized that my lights weren't on. (Another Lesson learnt: Check if the car has automatic light setting before renting it). I turned them on and hoped that the cop would just let it go.
But of course, he turned his lights on.
Crap.
Slowly, I parked on the right of the road. This was not good. Reasons:
a) I had recently applied for Texas License and they'd taken away my earlier Michigan License. Now all I had was this crumpled piece of paper the
DMV
had given me as a temp permit.
b) My Indian License was in a laughable state. In fact, last year at the grand canyon a cop had looked at it and laughed out loud.
c) We had had a couple of drinks (Yikes.)
d) We definitely had the confused
desis
=
milkable
bakras
look mastered.
Anyway, the cop comes out of his car.
Cop: 'Hi, My name is
*%balderdash#
(They speak so fast, how can you figure out everything?). I'm with Austin Police Dept. Your
DL
and registration please'
Me (smiling awkwardly): Sure Officer.
I hand him the rental contract and my crumpled permit paper.
He takes a confused look at it.
I enlighten him. 'I'm new to Texas. I still haven't got my
DL
'.
'Okay. The reason I stopped you Sir is because I saw you driving without your lights'
Shit.
'Oh, we'd
jussst
pulled out of parking, officer. I turned them on almost immediately'. I proceed to show him where we'd parked.
He doesn't buy it.
'Why would you park here at this time of the night?'
I tell him our bowling story.
He's still not convinced.
'Sir, were you having any food or talking on the phone will pulling out of parking?'
'No'.
'Did you have anything to drink at all tonight?'
He asks this in a friendly casual, almost smiling way. Its a skill really. Almost made me say 'yeah a couple'.
But I'm up to the task.
'Not really', I say with a straight face.
'Okay, I'll be back'.
He goes back to his car, checks my previous record (which is impeccable,
btw
) and comes back.
'Okay Sir, I'll be giving you a verbal warning this time since you realised your mistake all by yourself. But I'd like you to turn the lights on well before you start driving'.
'Oh absolutely officer. Thank you!', controlling the jubilation.
And then, he hands me a business card.
'This is the website where we're running a survey of police performance. Please fill it out and you'll get 2 free tacos from Taco Bell!'
I was speechless.
Anyways, we decided to celebrate our lucky escape by having some late night samosas at a place curiously named 'Ken's Donuts'.
By the end of it all, at 4 AM, we were exhausted and finally in bed.
Day 2 began with a trip to Inner Space Caverns in Georgetown just outside Austin. Awesome natural wonder. Stalactites and Stalagmites and what not. Quite surreal actually. Here's a sample pic that I took:
After having lunch at Madras Pavilion, we visited Mount
Bonnell
- a posh little locality outside Austin overlooking Lake Austin and some of the most expensive houses in the state. These guys have the lake as their playground. We hadn't stayed there for 10 minutes - not enough time for photo sessions whilst competing for vantage points with other
desi
families - that the skies turned cloudy. This is what we saw coming towards us:
We got out of there just in time, mainly because I kept making timely Arnold one-
worders
like 'Quick', 'Here' and 'Hurry' to egg the team along.
Next, K took us to University of Texas (UT) for a quick tour that lasted close to 2 hours. The campus is endless, the facilities evoking fond memories of my
Engg
. days in
NIE
where I had to park my Luna in a muddy lawn and run across the busy road to the library to get the one and only (almost dying) copy of Mano's Digital Design and take it over to
Girish
Xerox to get the 29
paise
kerosene xerox of the whole book and return it by evening as per the 'adjustment' with the librarian.
We also caught glimpses of graduation ceremonies at various departments, students looking fabulous and happy, parents positively beaming, teachers and deans looking regal which again reminded me of my graduation - I went to

NIE

office to collect my 'B.E' certificate, the guy in the office screamed '

Lo

swamy

,

ivndu

certificate

idya

nodo

' upon which, a certain

swamy

rummaged through the pile of certificates, handed me mine and said '

Nexxxt

'.
Anyway, after buying some vegetable chips (which are superb, u tried them?), we started for San Antonio. Traffic Gods were easy on me this time and we cruised through comfortably - except for one interesting moment when I couldn't take the classical music anymore and said '
saaaaku
eee
piteelu
', which although wasn't received well, was acted upon and the music was switched over to
Mungaaru
Male. Victory!
Day 3 began with
Seaworld
. Before that, we decided to buy tickets online because we could save almost $8 per head. Recession baas. What to do?
What we did not anticipate was the speed of the computer/
internet
at the hotel lobby. I started recalling the days with my old Pentium 100
mhz
with 16
mb
RAM when I would click on MS Word and eat Curd Rice till it opened. Only, this was worse. It took us full 25 minutes to book and print 4 tickets. I am certain there was some virus or
malware
in that computer. Any day now, I'm expecting to see a 1000$ adult entertainment bill on my credit card.
So we entered
Seaworld
, after paying $15 for parking in the open sun (If there's a bigger scam in this world, I'd like to see it please). We went to see the Killer Whale show. It is nicknamed
Shamu
, which I believe is short for
Shamsundru
. The whales were truly awe inspiring, displaying agility unimaginable for their size - something
Romesh
Pawar
should see and hang himself.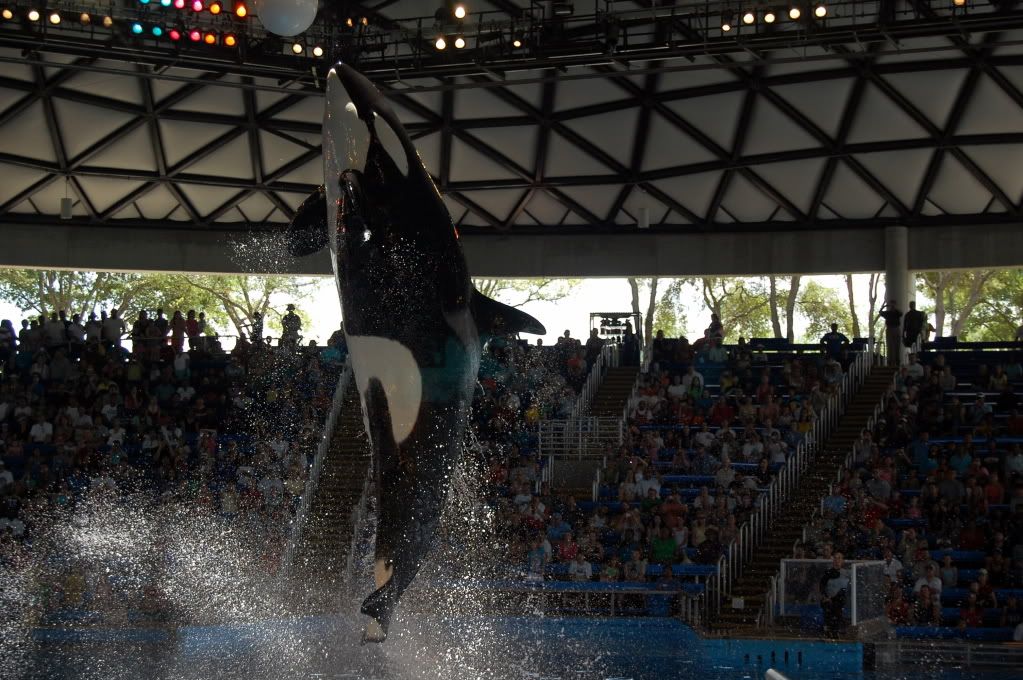 We also saw a dolphin show, where the divers' acrobatics outshone the dolphins.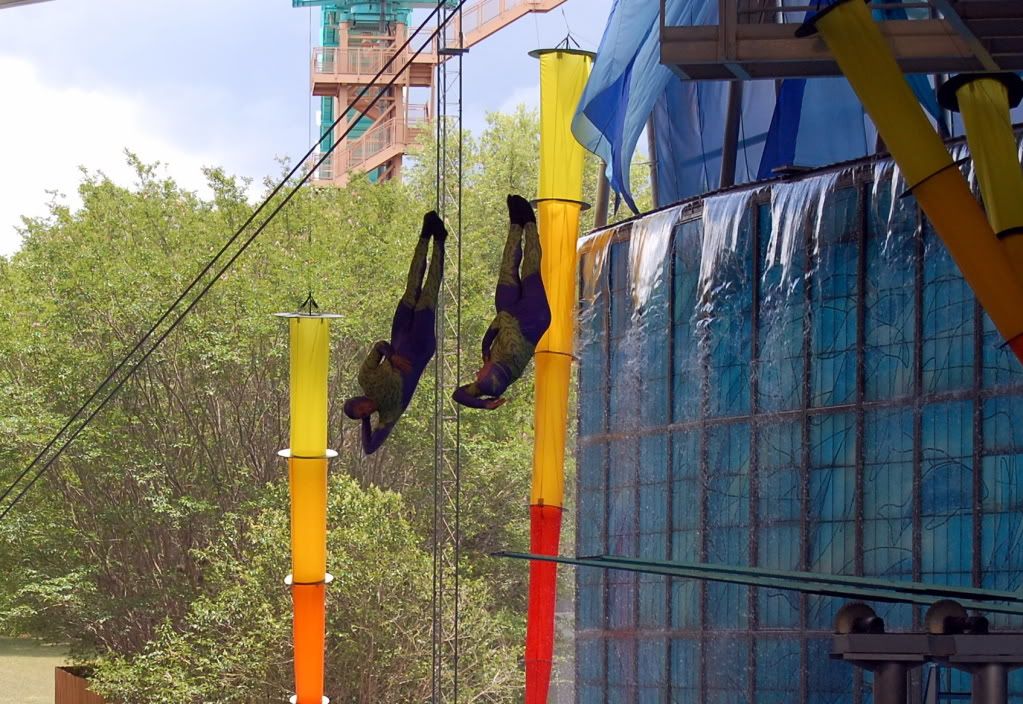 Lunch consisted of some horrible cheese pizza and soft drinks. The crowd here could not have been any different than the one in Austin. See, when you enter the bathroom to see 3 women waiting outside it and once inside see 10 men crouching near the urinals, only to realize that they're actually:
a) unbuttoning the pants of their 4 yr old, or
b) wiping their 2 yr old, or
c) holding the pee-pee of their 3 yr old,
you know you're in the wrong place.
But hey,
Shamsundru
made it worthwhile.
That evening, we went to the famed San Antonio
Riverwalk
. It was really charming and had an old worldly feel to it.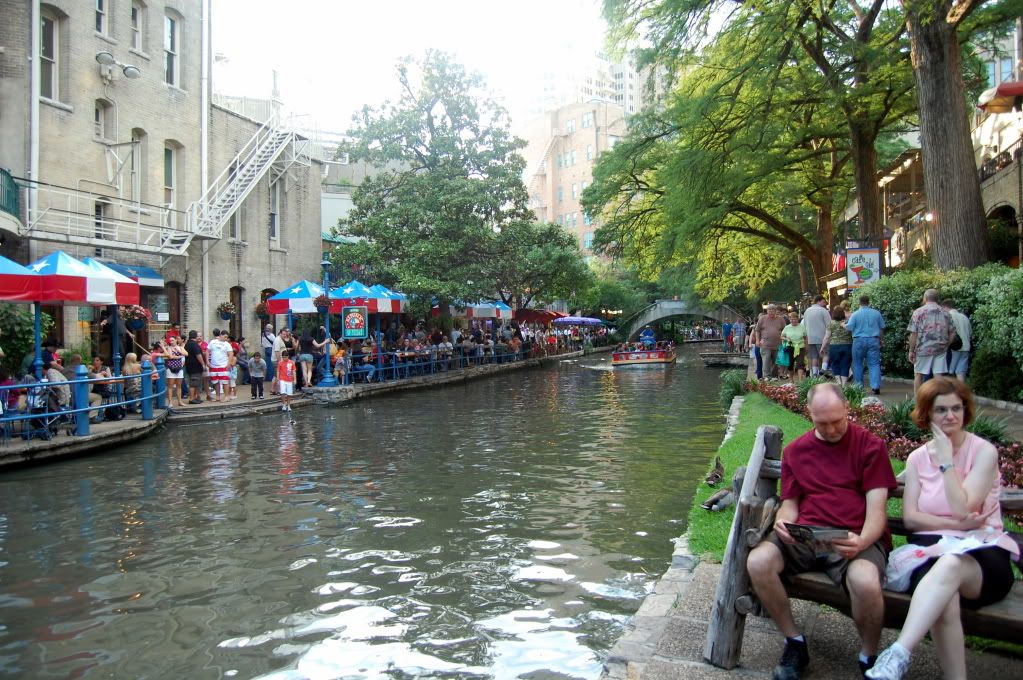 We spent an hour walking by restaurant after restaurant before finally settling down at Hard Rock Cafe. Everyone had cocktails while I decided to try Dos
Equis
(XX) and torment everyone with my 'Stay Thirsty My Friends' line. This was preceded by a priceless moment of comedy while ordering when K told the waiter 'I'll have Sex on the Beach' to which the waiter quipped 'Sure, as long as the cops aren't watching' and winked at him!
We would not let that go for the reminder of the trip.
After having a mediocre
mexican
dinner, we turned in.
The final day was reserved for shopping and return journey. San Marcos is apparently famous for its mile long outlet malls, so the girls literally steered the car into it. After 2 hours and $250 lighter, we started back on the road again. We stopped in Austin for lunch at
Masala
Wok and it turned out to be the best meal of the trip. Their Gobi '
Manchuri
' reminded me of a famous
mysore
roadside
gaadi
called 'tootsie' near
kuvempunagar
. After spending a whopping $80, we were back on the road again.
The rest of the journey was relatively event less. The trip ended with the following conversation between S and me.
S: 'So what now,
dont
tell me you're going to play your video games after going home'
Me: 'Its been 4 days. Yea, I think I'll play for a while'
At this point, both S and my wife exchange weird looks complete with eye-rolls and everything while I look on
cluelessly
.
If anyone knows a good psychiatrist, email me.
(P.S: Saw Up! last week and it is Fantastic!. A Must watch.)